Drazgose
3 panoramas by boštjan burger
The first Slovenian Army frontal battle
The German Third Reich, which was the military superpower of that time, attacked the territory of Slovenia in April 1941. The German Army occupied the Slovenian regions of Upper Carniola, Carinthia, Styria and the part of Lower Carniola with about 800.000 residents. Slovenians had decided for self-defense and the fight against the Fascism and Nazism. Slovenian Army was organized.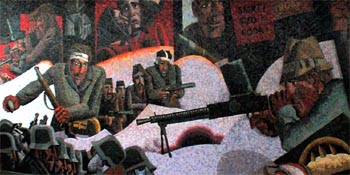 "Drazgose"
The Battle of Drazgose took place nearby the Zelezniki in the Upper Carniola region, between ninth and eleventh January 1942. It was the first Slovenian frontal battle (The Cankar battalion) in the Second World War against the Nazi millitary division. The armament was very poor with no artillery and very small number of machine guns. The only advance was strategic position on "Bickova skala" (rock rising). Even with the numerical superiority and the modern armament of Nazis the frontal battle lasted three days. The myth of the Nazi superiority was broken and the genocide was slowed down.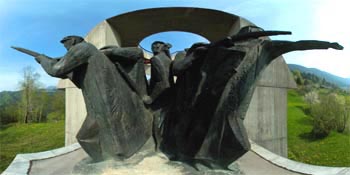 "Drazgose"
The battle revealed that the Slovenian Army was not prepared for a frontal battle, so the military tactics moved to partisan tactics until 1943 when Italy capitulated. The Slovenian Army then got proper armament and had liberated Slovenian ethnical territory by May 1945.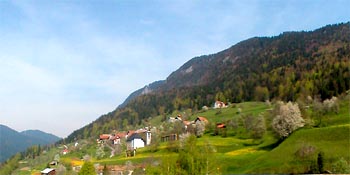 "Drazgose"
Območje Slovenije je aprila leta 1941 napadel Nemški rajh, ki je bil vojaška supersila tistega časa. Po delitvi slovenskega ozemlja je nemška vojska zasedla Gorenjsko, Koroško in Štajersko s 800.000 slovenskega prebivalstva. Slovenci so se odločili za samoobrambo in boj proti fašizmu in nacizmu in so se vojaško organizirali v slovensko vojsko. Dražgoška bitka, ki se je odvijala med 9. in 11. januarjem 1942, v vasi Drazgoše blizu Železnikov na Gorenskem, je bila prva bitka med drugo svetovno vojno, ko so se je slovenska vojska – Cankarjev bataljon, odkrito bojevala proti okupatorju. Slovenska vojska je bila tedaj slabo oborožena in edina prednost je bilo poznavanje terena in strateški položaj na Bičkovi skali. Kljub številčni in neprimerno boljši tehnični opremljenosti nemškega okupatorja, je tridnevna bitka razbila mit o nepremagljivosti nemške vojske in upočasnila genocid nad Slovenci. Bitka je tedaj pokazala, da slovenska vojska še ni bila zrela za frontalno bojevanje, zato se vojaška taktika usmerila v partizanski način bojevanja, vse do leta 1943, ko je bila poražena Italija in je slovenska vojska pridobila vojaško opremo in do maja 1945 osvobodila slovensko etnično ozemlje.
© 2005
Boštjan Burger
Related websites