Moscow
2 panoramas by andrey ilyin
Moscow, after V-day parade
The square in front of the Bolshoy Theatre – traditonal place where veterans meet old comrades, those who remain alive. Even 20 years ago this place was crouded with aged, but hale and hearty veterans, keeping in their hand the packards with the names of units where they used to serve.
Now this square is half-empty. In 1945, 18 millions of soldiers and officers lived to see the end of the war, just 1 million lived so long to V-parade 2005.
It won't be overstatement to say that without women the Soviet Union could lose this war. Over 800,000 women were conscripted in all combat arms, their share in medical staff was 61%, 52 women got The Hero Star – the highest Soviet decoration.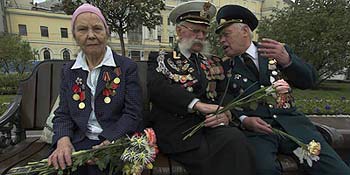 Moscow V-day celebration 2005
Not all pages of this war are accessible. Some dramas were kept hidden for ideological reasons. The 2nd Shock-army was headed by General Vlasov, who surrendered and started collaborating with the Nazis. Over 300,000 soldiers were encircled and died trying to breach the Leningrad blockade. Many thousands of them remain unburied.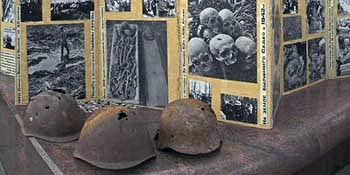 Moscow V-day celebration 2005
© 2005 Andrey Ilyin
Related websites
Ria Novosti project our victory day by day