Nagasaki
3 panoramas by yoshito takagi
Ground Zero (Hypocenter Cenotaph)
Ground zero, 11:02am 9th August, 2005. Due to bad weather at Kokura the primary target, "Box Car" changed course to Nagasaki and dropped "Fatman" on 11:02 pm from the altitude of 9800m at the sighting of Nagasaki City at the momentary break of cloud. The explosion was at 500m above the town of Matsuyama (Presently Atomic bomb Hypocenter Park).
Around the Hypocenter symbolic pillar standing in the center, tiles are arranged in a concentric manner. This reminds me of "Concentric circle of death", the words by Doctor Shinichiro Akiyama who devotedly continued medical activities after the explosion. This "Concentric circle of death" describes how the distribution of casualties expanded in a concentric manner, as casualties due to physical damage close to the center of the explosion was followed by the increasing number of radiation exposed patients further away from the explosion day after day.
爆心地
 2005年8月9日、午前11時02分の爆心地の様子です。第一投下目標となっていた小倉の天候が悪く、急遽長崎にやってきた「ボックス・カー」が一瞬の雲の切れ間から長崎の街を確認し、午前11時02分高度9800mから「ファットマン」を投下。松山町(現在の原爆落下中心地公園)の上空500mで爆発しました。
 中央に立つ原爆落下中心地標柱の周囲には同心円状にタイルが配置されています。これを見て私は被爆後に献身的な医療活動を続けた秋月辰一郎医師が唱えた「死の同心円」という言葉を思い出しました。被爆当日は爆弾の引き起こした物理的なダメージによる死傷者が中心だったものが、翌日から放射線障害による患者が増え始め、日に日に死者の分布が爆心地から外に向けて同心円状に拡大していったことを「死の同心円」と表現しました。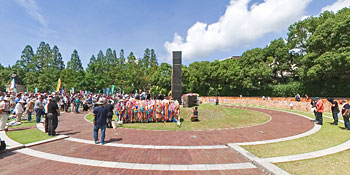 Nagasaki hypocenter
Urakami Cathedral
The former Urakami Cathedral, one of the largest in the orient was instantly destroyed by the direct blast and heat of the explosion being only 500m
Northeast away from the center (leftward direction of thumbnail) *1.
Most of the statues of saints in the grounds were destroyed, the heads of those that barely remained were burnt or broken due to the blast.
*1 The few remaining parts of the wall has been moved to the Hypocenter park. The above panorama of ground zero was taken from the remnants of the former Urakami cathedral facing towards the center pillar.
浦上天主堂
 東洋一の規模を持っていた旧浦上天主堂は、爆心地(サムネールの左側方向)から北東に約500mの位置にあったため、原爆の熱線と爆風の直撃を受け一瞬の内に倒壊してしまいました。(*1)
 敷地内にあった聖人の石像も大半が破壊されましたが、かろうじて残った石像も熱線で頭部が焼けこげたり、爆風で頭部が欠けたりしています。
(*1)わずかに残った壁の一部が後に爆心地公園に移設されています。上記爆心地のパノラマは、移設された旧浦上天主堂の遺構の側から原爆落下中心地標柱に向かって撮影しています。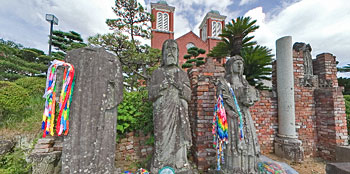 Urakami Cathedral
One-Legged Torii of Sanno Shrine
The Sanno Shrine Torii located 800m Southeast of ground zero (leftward direction of thumbnail). The post facing the explosion has been beaten down and top pillar was broken in half from the blast. The collapsed posts are conserved at the side of the entrance path on the top of the stairway.
山王神社 二の鳥居
 爆心地(サムネールの左側方向)から東南約800mに位置する山王神社二の鳥居。爆風により爆心地側の柱がなぎ倒され、笠木が半分に折れてしまっています。倒れた柱などは階段を上った参道脇に保存されています。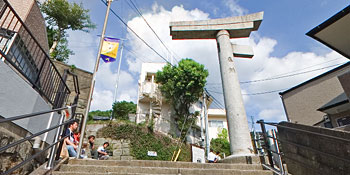 One-Legged Torii of Sanno Shrine
2005/08/09
A second Atomic bomb to mankind was dropped on Nagasaki, following Hiroshima. A Plutonium bomb named "Fatman" with the potential of 1.4 times greater than "Little Boy" dropped on Hiroshima, was dropped by an U.S. Army aircraft B29 "Box Car", resulting with the death of 74,000 people due to the intense heat, blast and radiation of the bomb, and approximately 75,000 injuries (estimation as of December, 1945).
Like Hiroshima, victims of the bomb are now still suffering from the aftereffect of the radiation. In the year between August 2004 and July 2005, 2,748 people have died, making the total number of identified victims to 137,339 as of July 2005. The average age of survivors of the bomb has now exceeded 73 years.
This panorama was taken on the 9th August 2005 in Nagasaki, 60 years after the bomb had been dropped.
2005年8月9日
 1945年8月9日11:02、広島に続き人類への2発目の原子爆弾が長崎に投下されました。米軍爆撃機B29「ボックス・カー」から投下された「ファットマン」という名のプルトニウム爆弾は、広島に投下された「リトルボーイ」の1.4倍の威力を持ち、強烈な熱線と爆風、放射線による死者は約74,000人、負傷者は約75,000人にのぼりました。(1945年12月末までの推定数)。
 広島同様、長崎の被爆者もいまだに原爆の後遺症に苦しんでいます。2004年8月から2005年7月の1年間に2,748人が亡くなっており、身元が判明している死没者の総数は同7月末現在で137,339人となりました。生存している被爆者の平均年齢は73歳を超えています。
 以下のパノラマは原爆投下から60年目にあたる2005年8月9日に長崎で撮影しました。
©2005 Yoshito Takagi
Special Thanks to:
The Nagasaki Film and Media Commission for understanding the purpose of this project and for their cooperation in obtaining the permission of photographing.
プロジェクトの趣旨に理解いただき撮影許可の取得に協力して頂いた「 ながさき観光地映像化支援センター 」に感謝します。
Translation by Tadashi Yoshida
翻訳:吉田 正
related websites