Ryvangen
1 panorama by john e. kroll
Ryvangen – Hellerup Denmark May 4. 2005
The Memorial Park in Ryvangen north of Copenhagen is a reminder of the human price Denmark paid for resistance in WW2.
The execution poles to which victims were tied up when shot, have been preserved in bronze.
On the 4th of May every year flowers in red, blue and white are placed here and on the graves in the memorial park to pay homage to the deceased as well as to the Allied forces – hence the colours.
Rasmus Steffansen member of the resistance group "Lasso Delingen" is paying tribute together with his wife Bodil, daughter Bente and grandchild Sekita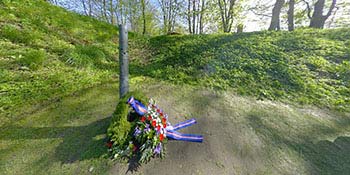 Veteran Rasmus Steffansen
© 2005 John E. Kroll