Tallinn
2 panoramas by andrei bodrov
Bronze Soldier monument at Tonismagi
Created in 1947, this striking figure of a soldier against a stone background was originally a memorial to Soviet soldiers who died fighting in World War II. For years, Estonians saw the statue as a symbol of occupation.
Due to changing political times, the text under the unmistakably Soviet statue now simply states "For those fallen in World War II." Local Russians still place flowers at the base of the monument, which continues to serve as a kind of "Tomb of the Unknown Soldier", to remember relatives lost in the war.
9th May each year, thousands of people brought flowers to the monument of the soldier-liberator at Tonismagi in Tallinn, together with veterans of the Great Fatherland War.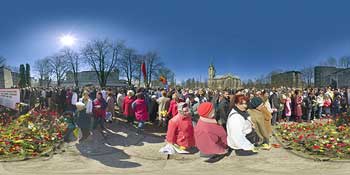 Tallinn, celebrations May 9, 2005
Memorial for the March Raid (March 9, 1944)
The night of March 9/10, 1944 Soviet bombers turned whole districts of Tallinn, the capital of Estonia, which was occupied by the German army.
In the summer of 1988, some ruins of the raid were excavated in the old town and, eventually, left exposed.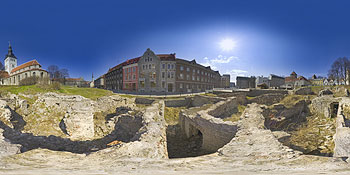 Tallinn
© 2005 Andrei Bodrov, Ebeling Data OY
Related websites
digital.tallinn
The March Raid The Soviet terror air raid to Tallinn