Walcheren
3 panoramas by kees brandenburg
Atlantikwall and the inundation of Walcheren
The former island Walcheren was an important part of the German Atlantikwall. The coastline from Vlissingen to Westkapelle dominated the entrance of the river Schelde which is entrance to the port of Antwerp in Belgium. The island itself can be thought of as a saucer with a rim of dunes and dikes.
During WW 2 there were two lines off German bunkers build, one which was right on top of the dunes and dikes at the seaside and a second line about 1 to 2 kilometers inland.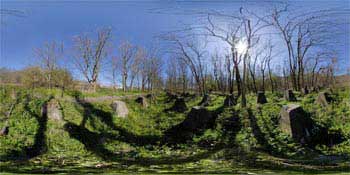 Anti tank defenses behind the dunes at Valkenisse
The purpose of the second line of bunkers was to protect the more important coastline bunkers from attacks from land. This second line consisted of bunkers and anti-tank canals and other anti tank defenses. Many bunkers and canals are still there.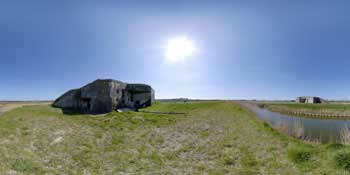 Bunkers and anti tank canal near Koudekerke
An allied invasion from the sea was not possible and an approach over land was long and very well protected by the second line of bunkers (the landfront).
Inundation of Walcheren
Although the town of Antwerp and its harbour were liberated it could not be used by the allied forces because the entrance was blocked by the German defense line at Walcheren.
The solution the allied forces chose was bombing the dunes and dikes at four locations at the beginning of october 1944. This opened the 'rim' of the saucer and the island was inundated, thus rendering the second German defense lines useless.
Unfortunately the bunkers at the coastline were still functioning and could only be taken by a landing force from the sea.
The four locations that were bombed are near Vlissingen, Westkapelle, Veere and Ritthem. The changes in the landscape are very well visible today. On all four locations inland lakes were created by the power of the incoming water. The whole island suffered from this inundation.
Bombing location the dike near Ritthem
Near the old fortress of Rammekenshoek the dike was bombed. On the small beach there is a leftover and debris from the closing of the dike after the war. Big concrete 'caissons' were used to shut the hole in the dike but they were sometimes taken by the brute force of the water.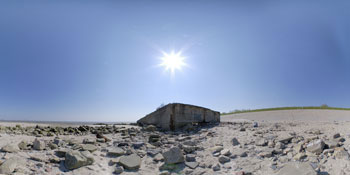 © 2005 Kees Brandenburg