Berlin - Cenotaphs
2 panoramas by peter scherbarth
Sowjetische Ehrenmale / Soviet Cenotaph
After World War II two memorials were built in the former soviet sector of Berlin and one near the "Brandenburger Tor" in the formerly West-Berlin.
The monumental cenotaphs are designed by a soviet architect-team to remember the liberation by the red-army. The stone parts of the areal are partly build out of the ruins of the "Reichskanzlei". Memorial-Tablets show the several names of the soviet soldiers who died during the battles of Berlin.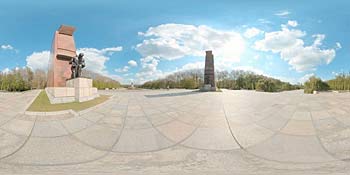 Treptow
Nach dem zweiten Weltkrieg wurden zwei Denkmäler im früheren sowjetischen Sektor Berlin gebaut, eines im früheren West-Berlin, nahe dem Brandenburger Tor.
Die monumentalen Ehrenmale wurden von einem sowjetischen Architekten-Team gestaltet um an die Befreiung durch die rote Armee zu erinnern. Die steinernen Teile des Geländes wurden zum Teil aus den Trümmern der Reichskanzlei errichtet. Auf Gedenktafeln wird an die zahlreichen sowjetischen Soldaten erinnert, die während der Schlacht um Berlin starben.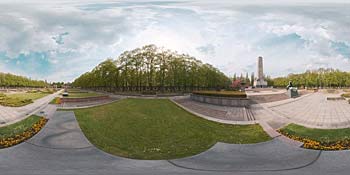 Schoenholz
© 2005 Peter Scherbarth