Creux-du-Van
1 panorama by jean-marc paratte
Here fell…
Ici est tombé...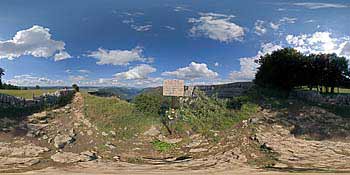 Le Creux-du-Van
It is with these words that the epitaph begins, in remembrance of an unusual accident: a man fell off the cliffs of Le Creux-du-Van. The circumstances were exceptional: 1940 was the year, at the very beginning of the 2nd World War, in a time of general mobilization. The commemorative plaque indicates that the man was a sapper soldier. Why was he here, so slose to the ledge? The text does not say.
´Here while being used his Fatherland on July 7, 1940 in his 23e year the sapper Jean Pilloud as Ch'tel-St-Denis Freiburg R.I.P fell. Its afflicted family'.
C'est par ces mots que commence le message laissé en souvenir d'un accident peu banal: un homme est tombé du haut des falaises du Creux-du-Van. Mais les circonstances étaient exceptionnelles: c'était en 1940 au début de la 2ème guerre mondiale, en période de mobilisation générale.
La plaque commémorative indique que l'homme était un soldat "sapeur". Pourquoi était-il là, que faisait-il si près de l'à-pic? Le texte ne le dit pas.
´Ici est tombé en servant sa Patrie le 7 juillet 1940 dans sa 23ème année le sapeur Jean Pilloud de Châtel-St-Denis Fribourg R.I.P. Sa famille affligée'.
© 2005 by Jean-Marc Paratte