Coventry
3 panoramas by joe king
On the night of Thursday, 14th November 1940, the Luftwaffe headed for Coventry in what was codenamed 'Operation Moonlight Sonata'. Over 500 bombers, in the biggest raid of the war to that date, devastated Coventry, an industrial city at the heart of Britain's war production. 554 people died and 865 were injured that night. Coventry was the first British city to suffer in this way, and the Luftwaffe coined a new word to describe the wholesale destruction of cities, zu Coventrieren, – 'to Coventrate'.
The new cathedral could have been built on the site of the old, but the architect resolved to retain the ruins as a memorial. The ruins remain as an international focus of prayer for reconciliation and world peace.
These panoramas are a brief tour of the cathedral, old and new.
In the ruins of the cathedral it was observed that two charred roof timbers had fallen across each other to form a cross. These were tied together and set up in the ruined sanctuary. Later the words 'Father Forgive' were inscribed behind the cross, in what is now the Altar of Reconciliation, where prayers of penitence and reconciliation are said every Friday at noon.
The canopy of the porch of the new cathedral dramatically arches over the ruins, emphasizing the connection between the two buildings, the new growing from the old.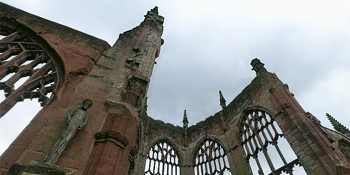 The Old Cathedral Ruins
If the ruins represent the suffering, then the new cathedral represents the resurrection. Whatever one's beliefs, one cannot help but be impressed by the powerful message of hope and faith embodied in this structure. Built between 1955 and 1962, it was a defiantly modern building then, and remains so today, over 40 years later. The sculpture seen in this panorama is 'St.Michael and the Devil' by Sir Jacob Epstein.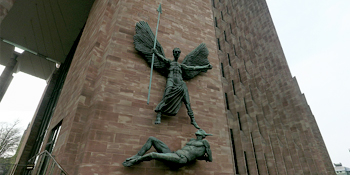 The New Cathedral
The massive glass west screen, with engraved angels and saints, emphasizes the openness of the cathedral. From outside the whole nave is open to view, from inside one looks out to the ruined cathedral as a reminder. The old and new buildings were in fact conceived by the architect as a single entity.
The baptistry window, designed by John Piper, is regarded by many as one of the greatest stained-glass windows in the country. It consists of 195 elemental panes of startlingly bright primary colours. Below your feet is a bronze Chi-Ro monogram, an ancient Christian symbol derived from the first two letters of the Greek title 'Christos'.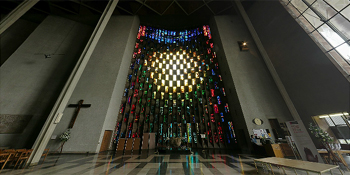 Inside the New Cathedral
©2005 Joe King
Related websites
BBC: on this day
Winston Churchil and the bombing of Coventry
More Coventry panoramas