Bunker Valentin
1 panorama by florian bertzbach
The madness
Bunker "Valentin" in Bremen Farge was build in 1943. Today it is a reminder of WW2 and the madness of Hitler Germany. Nearly 4000 people died while working there, an "extermination by working". Up to 12.000 people were on this project every day! The diary of a French forced labourer is available in German translation: "Hortensien in Farge – Überleben Im Bunker "Valentin" (ISBN 3-924444-88-9) original title: "Die Hölle, wie sie Dante nicht vorhergesagt hat".
The building site
In summer 1943 the building was started: in October already the cement works started. In constructing this bunker the experience of building other submarine-bunkers was helpful: A weak point was the openings. The connection to water was only one gate. The sandy harbour entrance today is a bathing place.
A section-door at the south made it possible, to moor finished boat-parts outside the bunker. Later a second part of the bunker was to be built (this was never started …). A gate to the north and the south allowed the railway to pass. The bunker was made as an assembly-factory of type XXI submarines.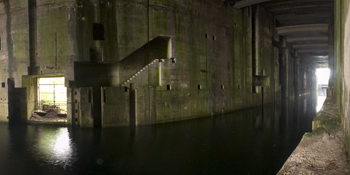 Bunker Valentin
The monster
Length of the bunker 426 m, width 97 m hight 42 m, the walls where 4,57 m thick, the roof up to 7,5m thik. 35.000 square meters of ground where covered by the bunker. 5200.000 cubic meters of room, a real monster, until January 1945 500.000 cubic meters of cement!
The end
By 45 the situation for the third Reich was hopeless. German "Oberkommando" stopped work at bunker "Valentin" . A emergency program for building submarines did not fit with the bunker. March 27th 1945 royal airforce bombed the bunker, 13 grand slam bombs, each 10 tons of weight, hit the bunker; two of them broke through the roof on section-place No. 5. Holes of 8m diameter where the result!. Other bombs heavily ddamaged the bunker and stopped further work: the bunker was 90% finished, nearly half of technical construction elements where finished.
After the war most equipment was dismantled. For a short time the bunker was target for training pilots dropping bombs. In 1962 the German army began to use parts of the bunker as a warehouse.
© 2005 Florian Bertzbach
Related websites
Interessante Seiten zum Bunker Valentin (DE)
Die U-Boot-Bunkerwerft Valentin (DE)
Bellangervalentin (FR)