Nemecka
2 panoramas by frantisek durec
Nemecka became a substantial part of the Slovak history in January 1945, when lime-kiln between villages Roztoka and Nemeck· was "the dumb witness" of the tragical events.
The commanders of the Nazi security police ñ Sicherheitspolizei, the Nazi security service ñ Sicherheitdienst and the Hlinka's Guard designated the Kofron's lime-kiln to the place of the mass executions of members of the Slovak National Uprising, their family members, sympathizers and racial persecuted persons on January 4, 1945. Using of the lime-kiln was the best way to blind a trail. They also spilled the ashes of the victims in the river Hron. The first mass executions were on January 5, 1945.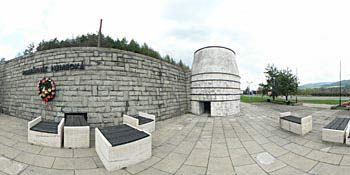 Nemecka
Because of the lack of information it is impossible to account for the exact number of victims. It is assumed, that 500 persons were executed there.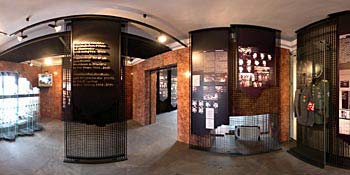 The museum in Nemecka
© 2005 Frantisek Durec
Related websites