Hürtgen forest
2 panoramas by mickael therer
Following their successful landing in Normandy the Allied troops rushed to the German border. By mid september 1944 they had made a first incursion in Germany south of Aachen on the Belgian border in a stronghold of the Siegfried Line. Lack of wise tactical decisions and stretched supply lines would make the battle of Hürtgenwald a fiasco for the US army: 33,000 casualties on a 50sq. mile battlefield with no military gain.
In his reassessment of a tragic World War II battle, General Gavin concludes that, for the Germans, holding the Huertgen Forest was phase one of the Battle of the Bulge. For the Americans, trying to occupy the forest was an awful mistake.
The forest is slowly recovering and still bears many scars from the battle, here a pillbox blown in the combats deep in the woods.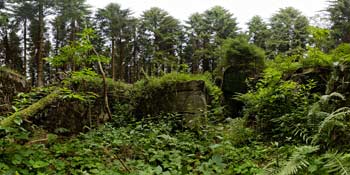 inside a blown pillbox
Ernest Hemingway compared the Hurtgen forest to the British offensive in Passendaele during World War I. Many of the opposing German generals also compared the battle to those of 1917-18 and von Gersdorf said it was more horrendous than any he experienced on the Russian Front.
Because the battlefield was partly abandoned during the German offensive in the winter of 1944, the dead on both sides were left behind, buried in common graves by whoever was left alive, or to be swallowed by the forest. Still today bodies arise from the torn ground, here it was Pfc Robert Cahow from Wisconsin uncovered in 2001.
Hundreds of dead soldiers remain to be found in Hürtgenwald.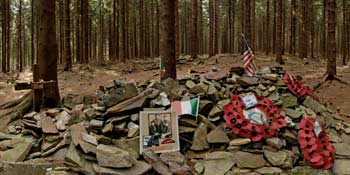 Robert Cahow's death spot
© 2005 Mickael Therer
related websites

Neglected Objectives An Historiography of the Campaign
Bloody Huertgen by General James M. Gavin
Paschendale with Treebursts by Robert S. Rush
Huertgen 1944 by Pete McCraren
Hürtgen forest at the The Holocaust encyclopedia
The battle of Huertgen forest