Hartheim Castle
2 panoramas by bernhard vogl
Hartheim castle was built at the end of the 16th century and belonged to the princes of Starenheim. 1898 Hartheim castle was donated to the Provincial Charity Club of Upper Austria (Landeswohltätigkeitsverein), to install a home for physically and mentally handicapped children.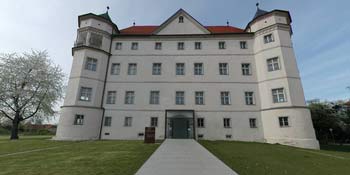 Hartheim Castle
After the annexation of Austria, the castle was expropriated and became one of six centers for "Euthanasia" – the operation to eliminate physically and mentally handicapped persons.
Later, also prisoners of the concentration camps Mauthausen, Gusen and Dachau were transported to the gas chamber of Hartheim.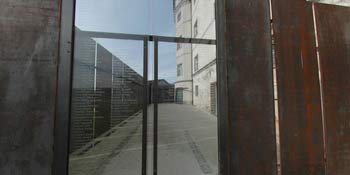 Hartheim Castle Memorial
The total number of murdered persons is assumed to be about 30,000. The exact reconstruction is very difficult as most recordings were destroyed and remaining information is still collected from wide spread sources and institutes.
© 2005 Bernhard Vogl
Related websites