Antwerp
6 panoramas by serge gutwirth
Basic survival
In park "Den Brandt" lie 9 bunkers, part of the Atlantikwall: six small ones (amongst which, one is a hospital) and two large commando bunkers of the type Sonderkonstruktion (SK) 1.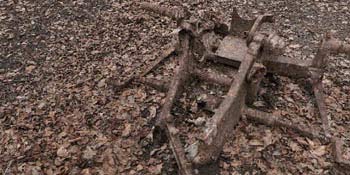 Park Den Brandt – Antwerp
It was the commando of Werner von und zu Gilsa, general of the 89ste army. The Belgian coast and the Dutch Scheldemound had been placed by Germans under commando of that 89ste legerkorps.
Such a commando bunker could resist any attack with its 2000 m3 concrete. The bunker was entirely selfsustaining, with its own ventilation – and dehydration system, heating, hydraulic pumps, electricity,... The walls and the roof are at least two meters thick. Ingenious chemneys infer each thrown-in grenade back to outside and a flame thrower could do nothing either. 1200 kilogrammes heavy armoured steel doors are gastight as well as all inner spaces.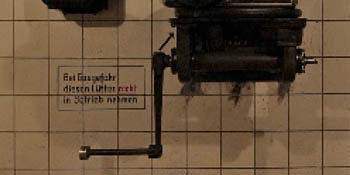 Bunker HQ – Antwerp
On 31st July 1942 German staff decided to locate their headquarters here. High ranked military officers and possibly also politicians visited this place.
Field-marshal Erwin Rommel, was in charge of the inspection of the Atlantikwall and of the German troops in the Netherlands, Belgium and France north of the Loire river. On January 3 and March 27, 1944 he visited the bunkers in park "Den Brandt".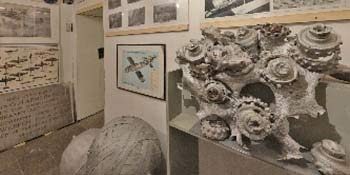 Bunker HQ – Antwerp
Although entirely equipped, the Germans probably never slept in these bunkers. Living in such a bunker was certainly not up to the nazis' standards, so staff stayed in some claimed villas around the park.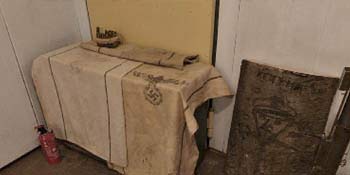 Bunker – Antwerp
Today, an association of "bunker-archeologists" are restoring the building, with the financial help of private and regional (Flemish) subsidies. The center for tourism of the city of Antwerpen mentions this place amongst other museums, the site of Stormfront White Nationalist Community shows some interest for this place too, I'm shure the city of Antwerpen will soon be even more intensely visited by a peculiar kind of tourists…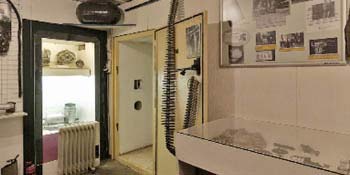 Bunker HQ – Antwerp
An interview with the persons in charge of Antwerpen Tourism, the archeologists and also the instance deciding what is patrimony, will be added soon.
At the same time, 2 miles away in the center of Antwerp
Just opposite the military hospital, where nazi troopers put themselves at rest, this house is the place where a woman hid my father and four other youngsters for more than two years.
The woman who took this incredible risk was a painter, "Moeke" Weyn, she said it was "building a mice's nest in a cat's ear".
For 27 months, they stayed in Moeke's bedroom in the back of the house. Only whispering was allowed when they were in the room, no noisy footsteps, no moving around: neighbours or passers-by were not meant to notice any sign of their presence in the house.
From this room they had access to a suspended ceiling, only 75 cm high, where the kids retired many times a day, and all night, every night, in total silence: steps in the stairway, a knock on the door – that happened often -, visitors unaware of the five pairs of ears catching every sound made, every word spoken.
Even Moeke's close friends did'nt know of her guests, no one could be sure of anyone else's involvement: one day, just a few houses away, a woman gave the Gestapo the address of a hiding five years old jewish child, because … _"these become adults, you know"_…
Today my dear dad is soon to be 85, a frail body full of wit and courage, thank you for him.
A mice's nest in a cat's ear
© 2005 Serge Gutwirth
Related websites
This is a link to the bunker-archeologists
This one for "fun" and tears at the same time
Official website Tourism Antwerp