St.Petersburg - Nevsky
1 panorama by andrey ilyin
Nevsky prospect
This graffiti on the building is a warning from the time when St.Petersburg was blocked by the Germans for 900 days (and bombed almost every day): "This side of street is more dangerous during the cannonade".
The blockade lasted from the 4th of September 1941 to the 22nd of January 1944.
4,062 demolition bombs, 99,908 fire bombs and 80,182 crumps fell on the streets of the city, at that time called Leningrad.
50,529 people were hit, from those 16,747 were killed.
When I first saw this sign a long time ago I was shocked by the contrast between modern the glossy Nevsky prospect and this echo of the tough times.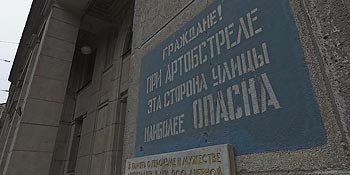 Nevsky prospect
© 2005 Andrey Ilyin
Related websites
Some photographs from that time
Another photo gallery, devoted to the blocade of St.Petersburg