Stuttgart
2 panoramas by josh von staudach
Birkenkopf, "Monte Scherbelino"
The locals call this hill Monte Scherbelino which means something like Mount Shards –– but in an odd childish way.
Originally the hills height was 471.00 meters (1545.28 ft) over sea level. In the years 1953 to 1957 the hill was raised plus 40.20 meters (131.89 ft) to 511.20 meters (1677.17 ft) by accumulating 1.5 million cubic meters (52.972 million cubic ft) of debris from the 53 air strikes against Stuttgart, which then had been destroyed to 45 percent. The Birkenkopf is the highest elevation of the surrounding hills of Stuttgart. On the top they put some prominent facade pieces of the destroyed houses.
This hill after the Second World War accumulated from debris of the town, stands as a memorial for the victims and as a warning to the living. Panorama 1 (cubic) shows the Birkenkopf and most of the facade pieces.
Die Einheimischen nennen den Birkenkopf auch Monte Scherbelino, was seltsam verniedlichend klingt.
Ursprünglich 471,00 Meter über NN (Normal Null) heute 511,20 Meter über NN. Erhöhung um 40,20 Meter 1953–1957 durch Aufschüttung von 1,5 Millionen Kubikmeter Trümmerschutt aus der in 53 Luftangriffen im 2. Weltkrieg zu 45% zerstörten Stadt Stuttgart. Der Birkenkopf ist damit die höchste Erhebung des Stuttgarter Kesselrands. Auf dem Gipfel wurden etliche markante Fassadenteile zerstörter Häuser platziert.
Dieser Berg nach dem Zweiten Weltkrieg aufgetürmt aus Trümmern der Stadt steht den Opfern zum Gedächtnis den Lebenden zur Mahnung. Panorama 1 (Kugelbild) zeigt den Birkenkopf und die meisten der Fassadenteile.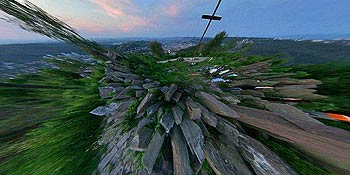 Birkenkopf, "Monte Scherbelino"
Panorama 2 (cylindric) shows more detail of the surroundings like the lightened downtown of Stuttgart –– but also people visiting the hill: a couple opening a bottle of wine, another couple kissing and a group of foreign fellow citizens having a picnic. Signs of reconciliation or signs of oblivion?
Panorama 2 (zylindrisch) zeigt mehr Details der Umgebung, unter anderem das erleuchtete Stadtzentrum – aber auch die Menschen, die heute den Berg besuchen: ein Pärchen öffnet eine Flasche Wein, ein anderes küßt sich innig, eine Gruppe ausländischer Mitbürger macht ein Picknick. Zeichen der Versöhnung oder des Vergessens?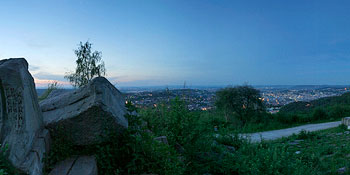 Birkenkopf, "Monte Scherbelino"
© 2005 Josh von Staudach