Maloyaroslavets
2 panoramas by andrey ilyin
Battle for Moscow, Autumn of 1941
It was one of the many dramas that had been palying on the Eastern front in the autumn of 1941. They differ only by the place and the number af actors. But the plot is the same.
About 3500 cadets were sent to cover the breach in the Russian lines of defense – one from dozens holes that appeared around Moscow because of the numerous German's break-throughs. They were trained just 3 months. It was just 150 kms to Moscow by the high road. Half-ready fortifications, no cover from the air, or tanks, shortage of ammunition… They managed to stop the German advance for two weeks – against 20,000 attackers with tanks and air support. Almost all of them died.
This pillbox is one of the two remaining. I wonder: could the defenders see this little piece of the sky or it was hidden by the heavy smoke rising from the burning tanks?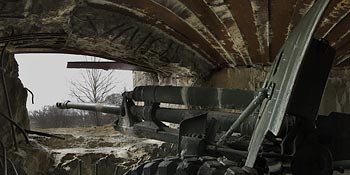 The defender's point of view
With enough practice, you could throw a grenade in the embrasure from this distance before being killed.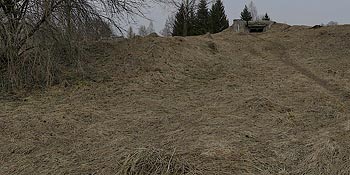 The attackers position
© 2005 Andrey Ilyin