Vienna - Flaktowers
3 panoramas by helmut schierer
The Viennese Flaktowers Die Wiener Flaktürme
During the Second World War the national socialists established three pairs of flaktowers in Vienna made of reinforced concrete – always consisting of a "Leitturm" guidance tower and "Gefetchtsturm" heavy gun tower. They served on the one hand as enormous "survival islands" for thousands Viennese with self-sufficient current and drinkable water supply, air conditioning system, as well as a hospital. On the other hand they were conceived for the defense of the approaching allied bomber relays.
Since 1945 these memorials of war are again and again subject to – partly – intensely discussions. Only recently the Italian artist Antonio Riello sought to free the Viennese from the psychological load of these towers by a reproduction from sugar cube with their following destruction by the visitors.
The panorama shows this exhibition Flaktuerme down of Antonio Riello in the "project space"-hall of the KUNSTHALLE wien.
Während des zweiten Weltkrieges errichteten die Nationalsozialisten in Wien drei Flakturmpaare aus Stahlbeton – immer bestehend aus Leitturm und Gefechtsturm. Sie dienten einerseits als riesige "Überlebensinseln" für tausende Wiener mit autarker Strom- und Trinkwasserversorgung, Klimaanlage, sowie einem Spital. Andererseits waren sie zur Abwehr der anfliegenden alliierten Bomberstaffeln konzipiert. Seit 1945 sind diese Mahnmale des Krieges immer wieder Gegenstand von – teilweise – heftigen Diskussionen.
Erst kürzlich suchte der italienische Künstler Antonio Riello durch einen Nachbau aus Zuckerwürfel mit ihrer anschließenden Zerstörung durch die Besucher die Wiener von der psychologischen Last dieser Türme zu befreien.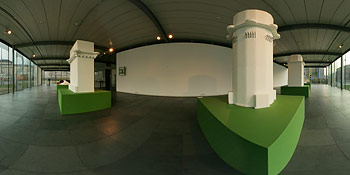 "Flaktuerme down" by Antonio Riello
The Flaktowers in the Augarten Die Flaktürme im Augarten
The flaktowers were designed by the german town architect Friedrich Tamms and established in the years 1942 to 1944 of obligation and immigrant workers. The towers were built in pairs and form an isosceles triangle around the Viennese city center to ensure a better firing cover. One flaktower always served as control post for the goal data (l-tower – panorama 3), the second as gun tower (g-tower – panorama 2).
Die Flaktürme wurden vom deuschen Stadtplaner Friedrich Tamms entworfen und in den Jahren 1942 bis 1944 von Zwangs- und Fremdarbeitern errichtet. Die Türme wurden paarweise gebaut und bilden ein gleichschenkeliges Dreieck rund um die Wiener Innenstadt um eine bessere Schußüberdeckung zu gewährleisten. Ein Flakturm diente immer als Leitstand für die Zielangaben (L-Turm – Panorama 2), der zweite als Gefechtsturm (G-Turm – Panorama 3).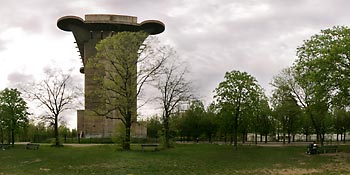 The Flaktowers in the Augarten
Two of the flaktowers are located in the "Augarten", a large park in the 20th district of vienna. With 51 meters these are the highest towers. They were established as the latter and finished in january 1945. The damage of one of the towers comes however not from engagements but by playing children, who set approx. 2000 grenades into fire.
Zwei der Flaktürme befinden sich im Wiener Augarten. Mit 51 Metern sind diese die höchsten Türme. Sie wurden als letzte errichtet und im Jänner 1945 fertiggestellt. Die Beschädigung eines der Türme stammt jedoch nicht von Gefechten sondern wurde durch spielende Kinder, welche ca. 2000 Granaten in Brand steckten, verursacht.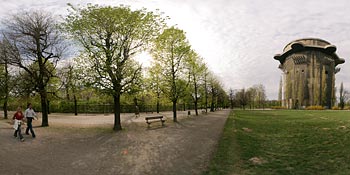 The Flaktowers in the Augarten
There is an ongoing disucssion how to use the flaktowers. The considerations reach from "blowing up" (very with difficulty and expensively) over coffee houses, museums up to cinemas. Some flaktowers are already used: The "Haus des Meeres" is accommodated in one tower; the museum for modern art uses a shelter as depot. On another tower a climbing wall was established.
However one decides: The flaktowers in Vienna represents in time-historically, architectural like also in emotional regard a characteristic and should remain as anti-war memorials of the city, country and Europe.
Wie die Mahnmahle nutzbar gemacht werden könnnen, wird immer wieder diskutiert. Die Überlegungen reichen vom "Sprengen" (sehr schwierig und teuer) über Kaffeehaus, Museum bis zum Kino. Einige Flaktürme werden bereits genützt: Das Haus des Meeres ist in einem Turm untergebracht; das Museum für moderne Kunst nützt einen Bunker als Depot. Auf einem Turm wurde eine Kletterwand vom Österreichischen Alpenverrein errichtet.
Wie auch immer entschieden wird: Die Flaktürme in Wien stellen in zeitgeschichtlicher, architektonischer wie auch in emotionaler Hinsicht eine Besonderheit dar und sollten als Antikriegsmahnmale der Stadt, dem Land, Europa erhalten bleiben.
© 2005 Helmut Schierer – rundumadum.at
Related websites
Further information about the Viennese flaktowers are to find on the following pages:
Third Reich in Ruins
wien.at – Web service – Stadentwicklung – the Viennese Flaktuerme (German)
airpower.at – die Flakt¸rme in Wien (German)
Wikipedia – Wiener Flakt¸rme (German)
flak towers
The photos of panorama 1 were made on the occasion of the exhibition "Flaktuerme down" (23.3. – 10.4.2005) with friendly permission of the KUNSTHALLE wien.