Theresienstadt
7 panoramas by mickael therer
When Theresienstadt was built as a military fortress in 1780, it consisted of two parts: the Main Fortress, where the Jews were later imprisoned by the Nazis in World War II, and the Small Fortress which was originally built as a prison and was used as such from the time it was completed until a few years after World War II, when the last of the German war criminals, who were incarcerated here by the victorious Allies, were executed. The Small Fortress became a Nazi Gestapo prison in June 1940, even before the Main Fortress was turned into a transit camp for the Jews in November 1941. (1)
Terezin – The Small Fortress
The Small Fortress was a Gestapo prison as soon as June 1940 and remained active until the last day of the war. During that time some 27,000 men and 5,000 women were sent here, mostly anti-fascists resistants. More than 2,500 of them died either of ill-treatment or were executed. 5,600 were released.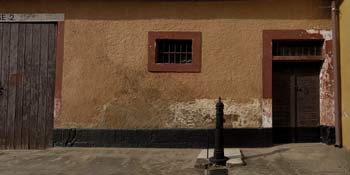 "Arbeit Macht Frei" gateway to courtyard 1
People were sent here for taking part in the democratic and communist resistance movement, for aiding parachutists sent from the west and east to help the Czech resistance, for supporting partisans, escaped and prisoners-of-war and Jews or for individual acts against the Nazi regime. They were intellectuals, workers, farmers, clericals, artists and students, men and women. The fate of the Jewish prisoners here was particularly tragic. After arrest by the Gestapo for taking part in the resistance movement or breaking the rules established for Jews in Terezin town, they were sent here, given the hardest work and subjected to the worst terrorism by the guards. It was actually a transit prison as most of the inmates were sent after a certain time before a Nazi court and from there to other prisons and penitentiaries or to concentration camps in Germany, Poland and Austria. (1)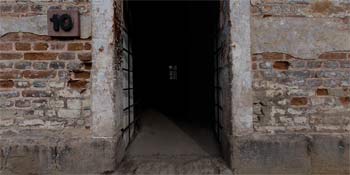 Courtyard 1 – Block A
The 1st courtyard was divided into 2 Blocks: A and B. There were 17 group cells and 20 small cells for solitary confinement. Up to 1,500 prisoners used this small courtyard.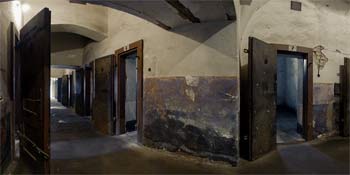 Courtyard 1 – Solitary confinement
The small fortress was completely flooded during the summer of 2002, courtyard 4 was the most badly hit, most if not all of the original objects and furniture were destroyed here. It has been just recently restored.
During my visit I was told that in the last days of the wars when prisoners from other Eastern camps were sent to Terezin, such a block could hold parked up to 600 persons.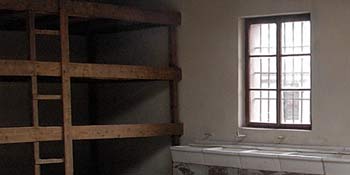 Inside a block
Milos Esner, Josef Mattas and Frantisek Marsik escaped at this spot by climbing out the window of the hospital block and walking along the ledge, which goes around the corner of the building to the opening between the walls. After their escape, the ledge was chipped away.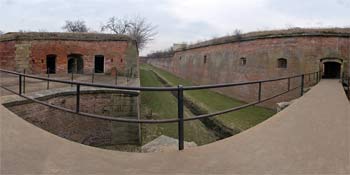 Escape route
The shooting wall was originally built for practice, but was soon converted into an execution area: under the free-standing roof stood the firing squad, the prisoners standing along the wall across the stream.
Between 250 and 300 prisoners were shot here, 3 were hung. Just before leaving the camp on May 2nd 1945, the nazis massively murdered 51 prisoners and 1 informer, mostly representatives of the Předvoj youth movement.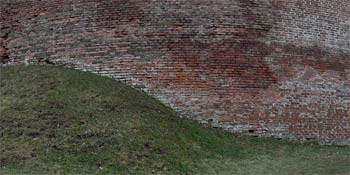 Execution wall
The swimming pool was built in 1942 to the benefit of the guards and their families. I can hardly imagine free kids have been bathing in here just behind the execution wall.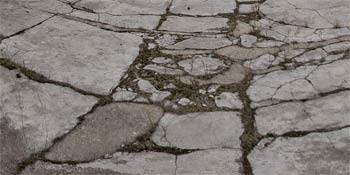 The swimming pool
(1) from scrapbookpages
© 2005 Mickael Therer
Related websites
Terezin Memorial Official site (cz – en – de)
A visit through the Small Fortress at Scrapbookpages