Cerkno
3 panoramas by boštjan burger
Partisan hospital Franja
With the intensity of battles between the Slovenian Army and the Nazi German Army, there was a need for the care of wounded fighters and their safe convalescence. It was organized as a network of small hospitals with the most famous Partisan hospital Franja.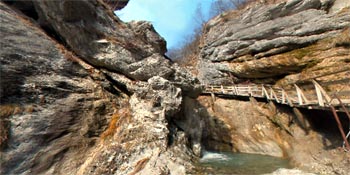 "Cerkno"
This hospital was located in a hardly accessible gorge of Pasica nearby Cerkno where the ninth corpus of Slovenian Army was operating.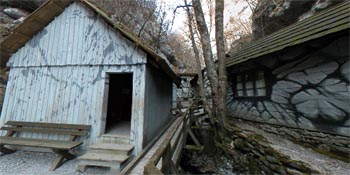 "Cerkno"
The hospital was in function from the winter of 1943 to spring 1945 and had a mission to care for badly wounded fighters. The hospital had 11 buildings with its own hydroelectric power station and the X-ray. This location is pending for World Heritage UNESCO list.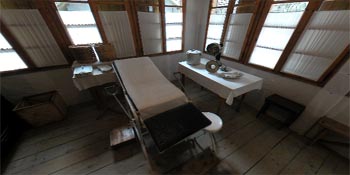 "Franja hospital"
Z razširitvijo bojev slovenske vojske z okupatorjem se je pojavila tudi nuja po vzpostavitvi nege ranjencev in njihovo varno bivanje. Postavljena je bila mreža manjših bolnic med katerimi je najbolj znamenita partizanska bolnica Franja, ki je v obdobju od zime 1943 do pomladi 1945 delovala v težko dostopni soteski potoka Pasica v bližini Cerknega. Zgrajena je bila za zdravljenje ranjencev in težjih bolnikov na območju 9. korpusa slovenske partizanske vojske, ki se je spopadala z nemško okupacijsko vojsko. Bolnica je obsegala 11 barak z lastno električno centralo in rentgenom.
© 2005
Boštjan Burger
Related websites