Berlin - Memorial
1 panorama by peter scherbarth
Holocaust Memorial Berlin
Recently the new Holocaust Memorial in Berlin was opened.
The huge field of stelae was designed by Peter Eisenman to remember of the jews murdered by the Hitler-Fascism.
The memorial site, made out of concrete and stone, was disputed for years due to its abstract monumentalism and the fact that it is only dedicated to the jews and not also to the other victims of the holocaust. In the center of the cenotaph there is a "Information Centre", a subterranean exhibition to gain further insight in the history of the holocaust.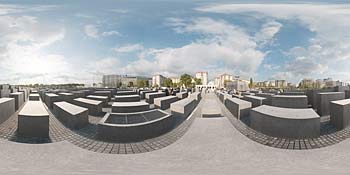 Holocaust Memorial
Holocaust Denkmal Berlin
Kürzlich wurde in Berlin das Holocaust Mahnmal eröffnet. Das riesige Stelenfeld wurde von Peter Eisenman entworfen um an die vom Hitler-Faschismus ermordeten Juden zu erinnern. Die Gedenkstätte aus Beton und Stein war jahrelang umstritten wegen ihrer monumentalen Abstraktion und der Tatsache, daß sie nur den Juden gewidmet ist und nicht auch den anderen Opfern des Holocaust. Im Zentrum des Ehrenmals befindet sich ein unterirdischer "Ort der Information", eine unterirdische Ausstellung um weitere Einblicke in die Geschichte des Holocaust zu gewinnen.
© 2005 Peter Scherbarth
Related websites
Holocaust Denkmal Berlin – website (in German)