Hendaye
4 panoramas by iñaki rezola
Bunkers in the Abbadia's Domaine'
These are some of the bunkers at the "Domaine d'Abbadia", a beautiful and protected natural site that belonged to that eccentric, erudit and curious Basqueman whose acquaintance French writer Pierre Loti made during his visits to this country.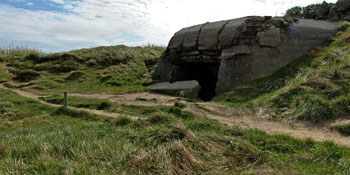 Domaine d'Abbadia, Hendaye. Bunker
Even if it sounds commonplace, realizing the huge contrast between this absolutely marvelous natural environment and the craze and cruelty our human kind has shown throughout history – epitomized in these bunkers – makes my mood quite gloomy. I'm not only thinking about the Nazi craze and the Armenian genocide, but also of lots of more recent facts: Bosnia, Ruanda, the Algerian carnages, the Twin Towers,Tchetchenia, Sudan, Madrid's March 11th and even, nearer to us,ETA's violence.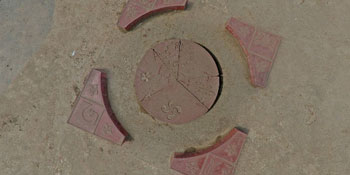 Domaine d'Abbadia, Hendaye. Bunker
I'm not stating that besides this natural life is paradise, there's the struggle for life everywhere, I'm not into new-wavy ecosentimentalism. I even wouldn't be surprised to see the birth of a fascist-like eco-movement… The way Ecology is often presented and consumed -as any other cultural item – presents an outmost religious flavour. And we do know the kind of butcheries many religions have gracefully indulged in.
Well, gloomy mood, as I said. Here I present you a couple of bunkers. There are some more, mostly in a very poor condition. The first one faces the cliffs, the sea, the wind, the seagulls… and the Spanish shore: ironically enough, Francoist Spain meant 'freedom' for those who fleeded from some of the extremest horrors Humankind has ever heard of. The second one is the best preserved and here there are a couple of shots, from inside, and on top.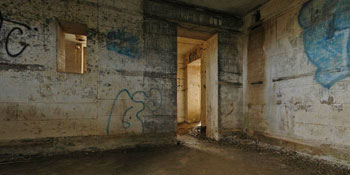 Domaine d'Abbadia, Hendaye. Inside a bunker
Finally, there's a panoramic view of the border between France and Spain: the Bidasoa river and the mountains. Seeing it, one could hardly guess that there is a border here…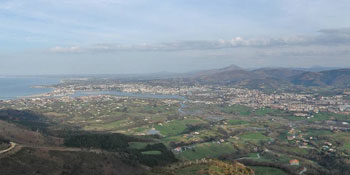 The French-Spanish border
© 2005 Iñaki Rezola