KL Stutthof
1 panorama by krzysztof sklodowski
Stutthof, 34 km from Danzig, Poland
The first concentration camp created by the Nazis outside of Germany (September 2nd 1939). It is also the last camp liberated by the Allies (May 10th 1945). The first prisoners arrived in the camp on September 2nd. 1939: 250 Polish citizens and P.O.W. Two weeks later, on September 15th 1939, there were 6,000 prisoners in the camp: prisoners of war, scientists, etc,... Most of them were executed by the SS.
More than one thousand people were killed in a Stutthof gas chamber.The camp's "gas chamber" building, which is still intact, is a small brick structure about two and a half meters high, five meters in length, three meters wide. American historian Konnilyn Feig has written that it looks "almost like a toy." Polish officials have seriously claimed that the Germans gassed one hundred persons at a time in the chamber (that is, six or seven persons per square meter). Homicidal gassings with Zyklon were supposedly carried out intermittently between June and December 1944 in this chamber.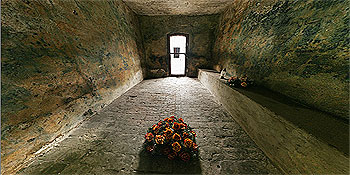 inside the gas chamber
Stutthof was the place where 110 000 people were kept: men, women and children; citizens from 25 countries and of 25 nationalities. Among them were also Poles, Jews, Russians, Ukrainians, White Russians, Lithuanians, Latvians, Estonians, Czechs, Slovaks, Finns, Norwegians, French, Danes, Dutch, Belgians, Germans, Austrians, English, Spanish, Italians, Yugoslavs, Hungarians and Gypsies. During the imprisonment they were exposed to a number of exterminating factors such as slave-like work, malnutrition, terrible sanitation, disease, mental and physical torture. 65 000 people died as a result of exterminating living conditions as well as of executions by shooting, hanging, murdering in gas chambers by means of Zyklon B, killing by means of phenol injections into the heart, beating and torturing, and during evacuation by land and by sea.
© 2005 by Krzysztof Sklodowski
related websites
Stutthof Museum : English – Deutsch
More about Stutthof from the Holocaust encyclopedia
Facts and more at Wikipedia
SS personnel serving at Stutthof
Other Stutthof cylindrical VR