Skæring Hede
2 panoramas by hans nyberg
Memorial at Skæring Hede east of Aarhus
December 2 1943, 5 young resistance fighters where executed at this place. This was the first large execution of Danish resistance fighters after the occupation of Denmark in 1940.
The execution was a result of a large sabotage against the Bridges at Langå two weeks before. After the sabotage of "Langaabroerne" Gestapo arrested several members of resistance fighters in Randers and Aarhus. 5 of them were condemned to death and executed Dec 2 at Skæring Hede.
Only 3 of them had actually participated in the blow up at Langå.
The execution was perhaps meant as a warning for the resistance but on the contrary the resistance against the nazi troops growed.
The inscription on the stone is a verse by the Danish famous author and priest Kaj Munk who was one of the most prominent opponent of the Nazis. He was shot by Nazis 1 month after the executions at Skæring Hede.
"Drenge, I drenge, som døde-
I tændte for Danmark i dybest mulm
en lysende morgenrøde"
Free translation :
"Young men, You young men who died-
You lighted for Denmark in dead of night
a shining dawn"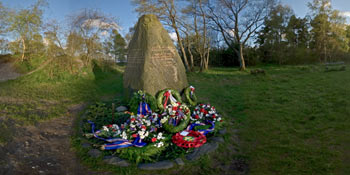 Skæring Hede May 6, 2005
The sabotage of the bridges at Langå
At this place close to the village Langå the railway crosses the river Gudenåen, the longest river in Denmark. The place has a part in the Danish history because it was here the first serious resistance against the German occupation of Denmark during World War II took place.
Much of the transports of troops and material through Denmark had to pass the bridges at Langå. The night of Nov. 18, 1943 a small local resistance group blows up the 3 bridges. 3 of them are arrested by Gestapo already the day after, another one 2 weeks later and the last 2 managed to flee to Sweden after being hunted by the Germans. One of them, Jørgen Røjel still lives and is a famous doctor and writer.
The red bridge you see in the panorama is the bridge which got the least damage. It could be taken in use again after 2 weeks. This bridge is built 1862 and is the oldest Iron plate bridge in Denmark. It was already blown up first time during the German-Danish War of 1864. After World War II it was built up again and it is today a protected Cultural Heritage.
The 2 other bridges do not exist any more. You can see the remains of one of them to the left. The bridge in the background was inaugurated in 1952 and is still used.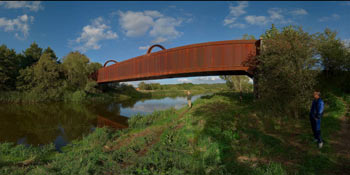 The Bridges at Langå
© 2005 Hans Nyberg
Related websites
60-års dagen for henrettelserne på Skæring Hede (Danish only)