Little Haldon
1 panorama by ian james wood
Haldon Aerodrome, Devon
Great Haldon and Little Haldon form a high ridge of land due South of Exeter, county city of Devon. Later on in the war Exeter was specifically targeted for bombing – not for strategic reasons, but because of it's reputation as an architectural gem.
Haldon Aerodrome was one of the first civilian airfields in South-West Britain. In 1928 William Richard Parkhouse bought land to form a flying school and trained most of the pilots in the area. Early in World War II it was requisitioned by the Royal Aircraft Establishment (RAE) – along with the larger airport at Exeter – for experimental purposes, as it was not considered to be at threat at that stage.
These days there is little trace of the aerodrome, just the occasional post near the edge and a suspiciously flat area of land next to Teignmouth Golf Club. The area has been used by the South Devon Model Flying Association since not long after the war.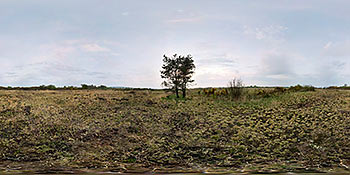 Haldon aerodrome
© 2005 Ian James Wood
Related websites
Teingmouth and Shaldon Museum has more information about the aerodrome and it's founder William Richard Parkhouse