Lommel
2 panoramas by mickael therer
German cemetery
During the American-English offensive of 1944/45, the American graves service interred the German dead in five cemeteries in Belgium and West Germany, especially in the vincinity of Aachen, in the Hürtgen Forest and the Remagen bridgehead, including one on Lommeler heath.
With more than 39,100 fallen soldiers, Lommel was the World War II war graves site in western Europe with the largest number of fallen.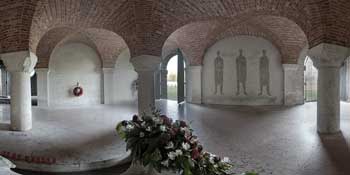 The cenotaph
In the mid-fifties, this war graves site was developed by the Volksbund Deutsche Kriegsgräberfürsorge e.V. (German War Graves Commission) for the fallen of World War II after it was commissioned to do so by the German government. The Volksbund has to rely on donations and contributions for the maintenance and care of this site. In international youth camps, young Europeans help to care for the site whilst at the same time building bridges of understanding.
In 1953, the first youth camp was held, laying the foundation stone for the Volksbund youth work. Lommel has been the site of a youth community centre since 1993.
"The dead of this cemetery admonish to peace"
© 2005 Mickael Therer
Related websites
Volksbund Deutsche Kriegsgräberfürsorge (in German)