Rab
2 panoramas by boštjan burger
Rab – Italian concentration camp
Beside Italian concentration camps at Treviso, Gonars, Padova and Renicci the Rab concentration camp was the largest one. There were imprisoned Croats, Jews and Slovenes. The camp was a collection of more than a thousand open-air tents arrayed across a valley nearby the coast and surrounded by barbed wire and guard towers and with some hovels. The limited water and very little food caused thousands of death, mostly young children and old people. In cold winter months with the cold northeast wind, the death toll rose sharply, mainly because prisoners were not given proper clothing and lived exposed tents. Babies and children died first because they were more vulnerable to these extreme chilly conditions. Italians treated Slovenes and Croats so badly that Jews were held separately at Rab and were treated relatively better. They had access to radio and newspapers and were better fed. Jews helped Slovenes and Croats as much it was possible. After the Italians capitulated, a group of young Jewish men who were in decent physical shape joined the emaciated Slovenes to form a military unit – the Rab Brigade to fight the German occupying army. A unique partnership emerged between Jewish and Slovene and Croat partisans.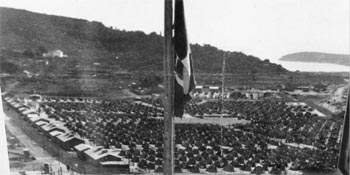 Rab concentration camp
Even the Croats established the NDH collaborative state after the attack of German and Italian armies to Yugoslavia in 1941, the Italian terror to Croats under the occupied areas was so heavy that people organized the resistance movement – Croatian Partisans. Some settlements on the seaside were destroyed and the male population was killed.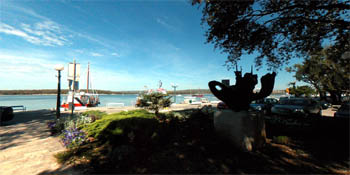 Rab today
© 2005 Boštjan Burger
Related websites