St-Gotthard railroad
1 panorama by yuval levy
Cattle wagons, somewhere along the north-south railroad in Switzerland
The Alps have been a barrier between Nazi-Germany and its Italian allies. The optimal way to cross them was the Swiss St-Gotthard railroad.
Though neutral, Switzerland let Nazi trains through its territory. The Swiss railways have been instrumental to the Nazis war logistic and to the deportation of Italian Jews to the death camps, where some 7,750 of them died.
Cargo-Wagons, irgendwo auf der Nord-Süd Achse in der Schweiz
Die Alpen waren ein Hinderniss zwischen Nazi-Deutschland und seine italienische Verbündete. Der optimale Weg führ durch die Schweizer Gotthardbahn.
Ihrer Neutralität zum trotz liess die Schweiz Nazi Züge durchfahren. Der Schweizer Streckennetz diente der Nazi Kriegslogistik und der Deportation der italienischen Jüden zu den Vernichtungslager, wo etwas 7,750 starben.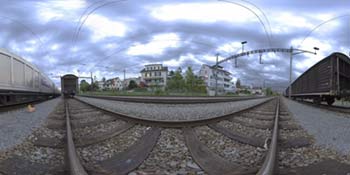 St-Gotthard railroad, somewhere in Switzerland
Wagons à bestiaux, quelque part sur la voie ferrée qui traverse la Suisse du nord au sud
Les Alpes étaient un obstacle naturel entre l'Allemagne nazie et ses alliés italiens. Le passage le plus rapide passait par les chemins de fer suisses du Gotthard.
Malgré sa neutralité la Suisse laissa passer les trains nazis. Les chemins de fer suisses furent utilisés pour la logistique de guerre nazie ainsi que la déportation des Juifs italiens, dont environ 7.750 moururent dans les camps d'extermination.
Vagoni per bestiame, da qualche parte sull'asse ferroviario nord-sud in Svizzera
Le Alpi erano un ostacolo tra la Germania nazista e i suoi alleati italiani. La ferrovia svizzera del San Gottardo er la via più rapida attraverso le Alpi.
Nonstante la sua neutralità, la Svizzera fece passare i treni nazisti. La ferrovia svizzera fu utilizzata per la logisitica di guerra nazista e per la deportazione degli ebrei italiani, di cui circa 7,750 morirono nei campi di sterminio.
© 2005 Yuval Levy
related websites