3 panoramas by yoshito takagi
A second Atomic bomb to mankind was dropped on Nagasaki, following Hiroshima. A Plutonium bomb named "Fatman" with the potential of 1.4 times greater than "Little Boy" dropped on Hiroshima
1945年8月9日11:02、広島に続き人類への2発目の原子爆弾が長崎に投下されました。米軍爆撃機B29「ボックス・カー」から投下された「ファットマン」という名のプルトニウム爆弾は、広島に投下された「リトルボーイ」の1.4倍の威力を持ち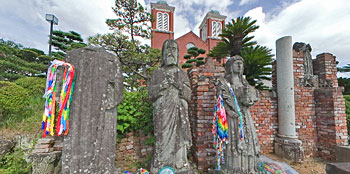 3 panoramas by yoshito takagi
I had assumed this place might be a depressed negative monument of the anger and the sorrow. Now, standing there and looking above the steal frameworks of the Dome, I found the quietness of this place.
そして"この場所"は怒りと悲しみに満ちた暗くて重い負の記念碑なのではないかと勝手に思いこんでいました。ところが実際に"この場所"に立ち、周囲を見渡してみると、そこは穏やかに時間の流れる静かな空間でした。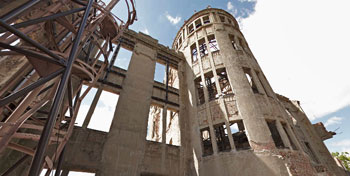 3 panoramas by yoshito takagi
These panoramas were taken on the 6th August 2005, 60 years after the bomb had been dropped. It was a bright sunny day from morning, cicadas were chirring noisily. Press helicopters were flying above the Peace Memorial Park and the calls of peace parties through loud speakers created a tumultuous atmosphere, on the contrary people silently praying for the victims were seen here and there, the contrast has been unforgettable.
 以下のパノラマは原爆投下から60年目にあたる2005年8月6日に撮影しました。その日、広島は朝から強い日差しが降り注ぎ、蝉時雨がうるさいほどでした。平和記念公園の周辺は報道関係のヘリコプターが飛び交い、平和団体のシュプレヒコールが拡声器から響き渡るなど騒然とした雰囲気でしたが、犠牲者を追悼し手を合わせ静かに祈りを捧げる人々の姿をあちこちで見ることができ、喧噪と静寂の対比が印象に残りました。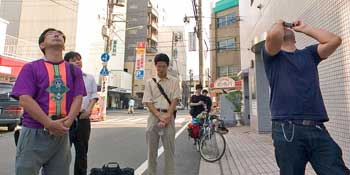 6 panoramas by osamu okada
The US forces held the mopping-up campaign of the bombardments from the warships at the sea, the air strikes, the flamethrower with tanks, pouring gasoline into the entrance of the refugee caves, …
On June 23, commander Ushijima and the chief of staff Chou committed suicide in the headquarters underground trench located on the Mabuni hill, and the organized resistance by the Japanese troops was finished.
米軍は、この地域で海からの艦砲射撃、空からの空爆と機関銃掃射、戦車を先頭に火炎放射器による攻撃、ガソリンを流し込む等の壕への馬乗り攻撃による掃討戦を行いました。
6月23日、魔文仁の丘にあった司令部壕内で、牛島司令官、長参謀長が自殺し、日本軍による組織的な抵抗は終わりました。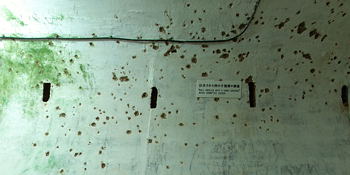 5 panoramas by osamu okada
One of the war's bloodiest ground battles which lasted for over three months from April 1, 1945 to July 2, 1945 when the US forces declared the island secure and the end of the Battle of Okinawa.
沖縄本島は東京から南西方向に1600Km離れた場所に位置し、南北約135Km、一番広いところで幅28Kmの細長い島です。1945年4月1日から米軍が沖縄攻略作戦終了を宣言した7月2日までの3ヶ月間余り、この島において日本国内で唯一住民を巻き込んだ血みどろの地上戦が繰り広げられました。