Ljubljana
3 panoramas by boštjan burger
Italian occupation and the organized resistance
Slovenia vas occupied in April 1941 and the territory was divided between Italy, Germany and Hungary. Italians occupied the Notranjska, a large part of Dolenjska and the capital city Ljubljana. Together 4500 km2 with 330.000 residents.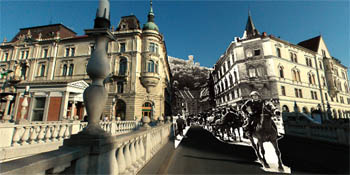 "Ljubljana"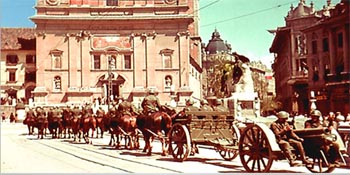 "Ljubljana"
The policy of the occupier was complete assimilation and genocide. Slovenian political fractions found out immediately that it was better to fight back than to just wait. In the evening of 26th April (27th April) the Liberation Front was organized (OF – Osvobodilna Fronta) whose programme was immediate and merciless fight against the occupiers, banishment of occupiers and the United Slovenia.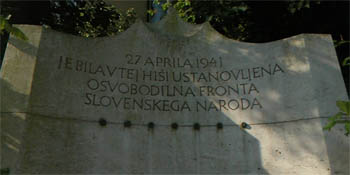 "Ljubljana"
Italians enclosed Ljubljana with 41 kilometres of barbed wire, which connected 69 bunkers and 11 checkpoints. The city became hostage of the Italian fascist army. Every action of the Liberation Front was punished with the execution of hostages and 7.5 % of the Slovenian population in the Italian occupied region, was deported to a concentration camp in Rab (Croatia) and Gonars (Italy).
In September 1943, Italy capitulated and lost the war. The Slovenian Army finally liberated Ljubljana on 9th May 1945.
Slovensko ozemlje je bilo po zasedbi aprila 1941 razkosano med tri okupatorje: Italijane, Nemce in Madžare. Italijani so okupirali Notranjsko, vecji del Dolenjske in Ljubljano. Skupaj 4500 km2 z 330.000 prebivalci. V nacrtih okupatorjev je bila popolna asimilacija ali izginotje Slovencev. Takoj v zacetku zasedbe, 26. aprila oz. 27. aprila so se posamezne slovenske politicne skupine v Vidmarjevi hiši v Ljubljani organizirale v Osvobodilno fronto. Programski cilj OF je bil takojšen organiziran oborožen odpor, izgon okupatorjev in Zedinjena Slovenija. Italijani so zato Ljubljano ogradili z 41 kilometri bodece žice, ki je povezovala 69 bunkerjev in 11 kontrolnih tock. Mesto je postalo talec italijanske okupacijske vojske. Vsaka dejavnost OF je bila kaznovana s streljanjem talcev in 7.5% prebivalstva Ljubljanske pokrajine je bilo poslano v koncentracijsko taborišce na Rabu ( Hrvaška) in v Gonars (Italija). Septembra 1943 je Italija kapitulirala. Ljubljano je 9. maja 1945 osvobodila slovenska vojska.
© 2005
Boštjan Burger
Related websites