Pearl Harbor
5 panoramas by dean karamehmedovic
USS Arizona Memorial
The USS Arizona is the final resting place for many of the ship's 1,177 crewmen who lost their lives on December 7, 1941. The 184-foot-long Memorial structure spanning the mid-portion of the sunken battleship consists of three main sections: the entry and assembly rooms; a central area designed for ceremonies and general observation; and the shrine room, where the names of those killed on the Arizona are engraved on the marble wall.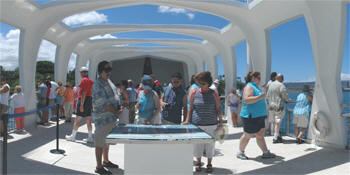 Arizona Memorial
The memorial's 'Remembrance Exhibit' displays the names of those who died in the 1941 attack but were not on the USS Arizona.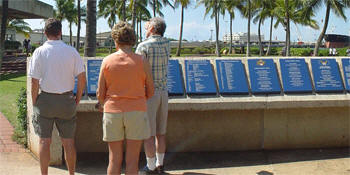 Arizona Memorial – Remembrance Exhibit
USS Missouri Memorial
Pearl Harbor is also is honored to be the home of the USS Missouri Battleship Memorial. The ìMighty Mo!î is the most celebrated American battleship. The Stand on the famous Surrender Deck and tour the shipís bridge where youíll have a perfect view of Pearl Harbor, the Arizona Memorial and the Surface Fleet of the US Navy. Once a wartime juggernaut, the USS Battleship Missouri now serves as an interactive museum and memorial at Pearl Harbor,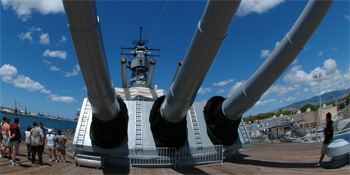 USS Missouri Memorial – Main Battery
Known as the "Mighty Mo," the Missouri is the last of four Iowa-class battleships that were built during World War II. Weighing in at 48,000 tons and more than 885 feet in length (from bow to stern), the Missouri launched out of New York Naval Shipyard on January 29, 1944 and was commissioned on June 11 of that same year. It went on to become one of the U.S. militaryís most decorated ships, with three battle stars for World War II service and another five for its service during the Korean War. When Japan surrendered on September 2, 1945, officially marking the end of World War II, the signing took place aboard the Missouri. "The day was overcast," recalled Frank Hartwell, who served as a quartermaster in the shipís wartime fleet. "Then a destroyer came up with 11 Japanese dignitaries. General MacArthur signed for all the Allies, and Admiral Nimitz signed for the U.S. The sky cleared right after the surrender was signed.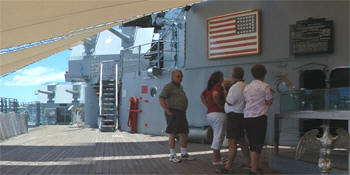 USS Missouri Memorial – Surrender Deck
USS Bowfin Submarine Museum and Park
The USS Bowfin was launched on December 7, 1942, exactly one year after Japanís attack on Pearl Harbor. Nicknamed the "Pearl Harbor Avenger," the Bowfin went on to sink 44 enemy ships during nine successful war patrols. For her service, the Bowfin was awarded a Presidential Unit Citation and a Navy Unit Commendation.
The Bowfin is one of only 15 U.S. World War II submarines that did not wind up as scrap metal or as target practice for another military ship.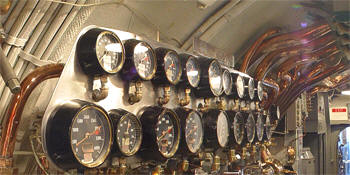 USS Bowfin Submarine
© 2005 by Dean Karamehmedovic
related websites