Maribor
2 panoramas by boštjan burger
Maribor – the innocent victim
Maribor is the second largest city in Slovenia. Even Maribor was the city under the German occupation during the WW2, it was the most bombarded town in Slovenia from the Anglo-American aircraft. The town was attacked with the bombers B-17 and the B-24 Liberator in the years 1944 and 1945.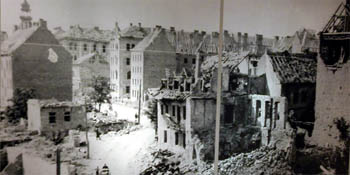 Maribor
The policy of the occupier was the complete assimilation and the genocide. Slovenian political fractions found out immediately that is better to fight than to just wait. In the evening of 26th April (27th April) was organized the Liberation Front (OF – Osvobodilna Fronta) which programme was immediate and pitiless fight against the occupiers, banishment of occupiers and the United Slovenia.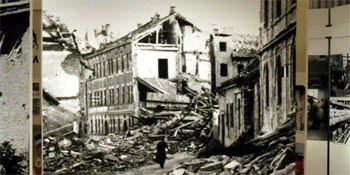 Maribor
Allied aircraft threw air bombs from the high altitude, where beside the military infrastructure and the communications were heavy damaged also the civil objects where died innocent residents of Maribor. The history of that time is well displayed in the Museum of the contemporary history Maribor.
Maribor je drugo največje mesto v Sloveniji. Čeprav je bil Maribor okupirano mesto med II. svetovno vojno je bil najboj bombardirano mesto s strani anglo-ameriškega letalstva v Sloveniji. Mesto je bilo bomardirano z bombniki B-17 in letečimi trdnjavami B-24 Liberator v letalskih napadih v letih 1944 in začetku 1945 pri čem je trpelo nedolžno civilno prebivalstvo. Nad mestom so zavezniška letala z velike višine, ki ni omogočala velike natančnosti zadetkov spuščala neporabljene bombe iz letalskih akcij strateškega bombardiranja v Nemčiji. Poleg poškodovanih komunikacijskih poti so bile močno poškodovani tudi civilni objekti kjer so umrli številni nedolžni Mariborčani. Tedanja podoba Maribora je dobro predstavljena v Muzeju novehjše zgodovine Maribor.
© 2005
Boštjan Burger