Tokyo II
1 panorama by keiji yokotani
Inagi-City Local Museum
稲城市郷土資料室
These items in the picture below are from a war exhibition in Inagi-City Local Museum, Tokyo. Seven items are chosen here and given detailed explanation. The order of the captions goes counterclockwise.
東京都稲城市郷土資料室に展示されている戦争の展示物です。展示物中7点をピックアップし、左回り方向で紹介します。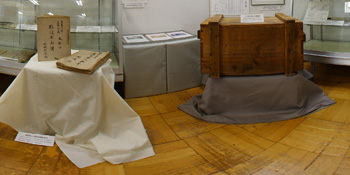 Inagi-City Local Museum
稲城市郷土資料室
1. Ammunition box used in an explosives arsenal
This wooden box contained explosives manufactured at Tama Explosives Plant, which was an arsenal for the now-defunct Imperial Japanese Army. When WW2 was over, the boxes were sold to neighboring farmers to be used in farm work. Tama Explosives Plant was constructed in Omaru, Inagi-village. The arsenal produced approximately 450 tons of burster a month. Today, the place is turned into a recreation center for the U.S.forces as well as a golf course.
火工廠で使われた弾薬箱
火工廠多摩火薬製造所で製造された火薬類を入れた木箱です。 戦後払い下げられて周辺の農家の農作業用として使われていました。 多摩火薬製造所は稲城村大丸に建設されました。 炸薬は月産約450トンに達していました。 現在、米軍のレクレーションセンター施設及びゴルフ場として使われています。
2. Documents of demobilized and fallen soldiers
These documents hold information about soldiers who were drafted: veterans who came back alive to Inagi, and those who were killed in battle or died of disease at the front.
復員軍人と戦没者関係資料
召集された兵士の中で、生きて稲城に帰って来た復員兵士や、戦地における戦病死者についてまとめられた資料です。
3. Helmet
This iron helmet was used in warfare.
鉄兜
軍事用に使われた鉄兜です
4. Tin foil for scrambling radio wave
The U.S.forces scattered tin foil in order to jam radars of Japanese Military. The radars reacted to tin foil, causing difficulties in detecting the number of bombing planes and their direction of movement.
電波かく乱用のスズ箔
日本軍のレーダーをかく乱するために、米軍によってまかれたスズ箔です。 レーダーがスズ箔に反応して、爆撃機自体の機数や進行方向などが分りにくくなりました。
5. Cap worn in the Naval force
海軍で使われた帽子
6. Anti-air raid hood
Women and children wore hoods like this to protect themselves from air raids. These hoods were made long enough to cover their shoulders and were wadded to enhance strength. Inside the hood was stitched a cloth on which personal information such as the child's name, age, address, workplace, and name of the guardian was written.
防空頭巾
空襲から身を守るために、女性や子どもがかぶった頭巾です。 肩まで入る綿入れの丈夫なものです。 頭巾の内側には子どもの名前、年齢、住所、就労場所、保護者の名前などを書いた布が縫いつけてありました。
7. M-69 firebomb
M-69 was developed for the purpose of air-raiding Japan. Jellylike gasoline was stuffed inside the firebomb, which scattered all over and burst into flame at the explosion. 38 of these firebombs were included in a single large bomb, and this large bomb would disassemble 700 meters above the ground to spread firebombs. The Great Tokyo Air Raid that occurred between March and May of 1945 burnt approximately 50 percent of urban areas in Tokyo to the ground. Particularly in an air raid on March 10th 1945, approximately 100 thousand people were killed in no more than over two hours.
M69型焼夷弾
日本空襲用に開発された焼夷弾で、内部に詰められたゼリー状のガソリンが周囲に飛び散って物を焼きました。 一発の親弾に38発の焼夷弾が含まれ、上空約700mで分解し、バラまかれました。 1945年の3月〜5月にかけての東京大空襲では東京市街の約50%が焼失しました。 特に1945年3月10日は、2時間余りの爆撃で約10万人が死亡しました。
I would like to express my deepest gratitude to Inagi-city for understanding the purpose of this project and giving me special permission to take photographs.
プロジェクトの目的をご理解頂き、特別の撮影許可を頂いた稲城市に感謝します。
Translation by Yuko Kato
英訳 加藤優子
© 2005 by Keiji Yokotani
横谷恵二
related websites
Bombing of Tokyo in World War II at wikipedia