Tokyo III
1 panorama by keiji yokotani
Auditorium of Ichigaya Memorial Hall
市ヶ谷記念館 大講堂
Built in 1934, this place was an auditorium of now-defunct Military Cadet School. The U.S.forces requisitioned the facility in August 1945, and used the auditorium as a court when they held the International Military Tribunal for the Far East (the Tokyo Trial) in May of the following year.
この部屋は1934年陸軍士官学校の大講堂として作られた施設です。 1945年8月、米軍に接収され、翌年5月極東軍事裁判(東京裁判)の法廷として使用されました。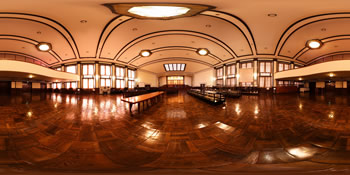 Auditorium of Ichigaya Memorial Hall
大講堂
Although the best effort was made to utilize original materials when the interior was moved and restored in 2000, some things such as chairs, desks, and exhibitions are not from those days. A booth for simultaneous interpreters was set up on the upper platform in front; the lower platform held seats for high ranking officials of General Headquarters. The bench was situated to the left of the platform, having the witness stand in front of it. To the right of the platform was positioned the defendant's seat, facing the bench. Near the auditorium entrance were seats for journalists; the bench side for international press and the defendant's side for Japanese press. Seats for public gallery were placed on the overhung second floor opposite to the platform, where family members of defendants sat as well.
現在の内部は2000年に、可能な限り元の部材を利用して移設・復元されたものですが、椅子、机、展示物などは当時のものではありません。 正面演壇上段が同時通訳のブース、下段はGHQ(連合軍総司令部)の高官席となりました。 裁判官席は演壇に向かって左側でその前方に証言台、裁判官席に相対して右側に被告人席が置かれました。 講堂の入り口扉近く、裁判官席側は海外の報道関係者席、被告人側は日本の報道関係者席。 演壇の向かい側2階席は一般傍聴人席と被告人の家族席が設けられました。
On April 29th 1946, files were charged by 11 allied countries based on Article 10 of Potsdam declaration, which stipulates the punishment of war criminals. In the tribunal, defendants were accused on three counts: crimes against peace, war crime, and crime against humanity. The auditorium was used for 924 days from the opening of the trial, May 3rd 1946, till the declaration of judgment, which was November 12th 1948. Seven people were sentenced to death by hanging; sixteen were sentenced to life imprisonment, two to finite imprisonment. Two died of disease before the judgment, and one escaped prosecution due to nervous breakdown.
1946年4月29日11ヶ国連合国名により「ポツダム宣言第10項」の戦犯処罰規定を根拠に起訴。 「平和に対する罪」、「殺人と通例の戦争犯罪」、「人道に対する罪」の3つに分類された訴因に基づき裁判は行われました。 1946年5月3日開廷から1948年11月12日判決が下されるまでの924日間使用されました。 判決は絞首刑7人、終身刑16人、有期禁固刑2人、判決前に病死2人、精神障害による訴追免除1人。
I would like to express my gratitude to Japan Defense Agency for understanding the purpose of this project and giving me special permission to photograph the facility.
プロジェクトの目的をご理解頂き、特別の撮影許可を頂いた防衛庁に感謝します。
Translation by Yuko Kato
英訳 加藤優子
© 2005 by Keiji Yokotani
横谷恵二
related websites